Lucas McCloud
(Terryman)
is an American caw wrestler who competes in the
CWWF
. He is currently in his first reign as
CWWF World Heavyweight Champion
(being crowned the inaugural champion)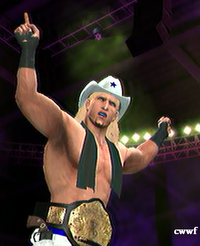 Personality
Highly charasmatic in the ring, Terryman was born with a aspiration in wrestling. Being born in one of the smallest cities (Sun Valley, Texas) in America, he later would move to the larger San Antonio at age 12. He has a western attitude and accent, and no matter how big his opponent he doesn't back away from a challenge.
Attributes
RTG: 92
Height: 6 ft. 0 in.
Weight: 237lbs (107.501 kg)
Birthplace: Sun Valley, Texas
Resides: San Antonio, Texas
Billed from: San Antonio, Texas
Debut: 2011
Retired: Still Active
Character Facts
He is 27 years old
He is currently face
He is the inaugural CWWF World Heavyweight Champion
His nicknames are "The Cowboy", "Terry", and "The Great Terryman"
In wrestling (CWWF)
Finishing move
Cloverleaf hold
High angle-DDT
Signatures
Texas bulldog (running bulldog)
Spinning toe hold
Texan Tiger bomb (Butterfly powerbomb)