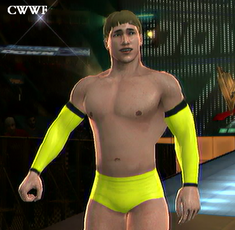 Peter Hero is a British-American caw wrestler who competes in the CWWF. He is romantically involved with CWWF Diva, Amy Evans.
Attributes
Edit
RTG: 83
Height: 5 ft. 10 in.
Weight: 224lbs (101.60 kg)
Birthplace: Great Britan
Resides: Rhode Island
Billed from: UK
Debut: 2011
Retired: Still Active
Character Facts
Edit
He is 23 years old
He is currently

face

His nickname is "The UK Hero"
In wrestling (CWWF)
Edit
Finishing move
Frog Splash Pin

Sharpshooter
Signatures
One shot takedown (Dodge followed by a kick to the head)
Christo
Fisherman suplex