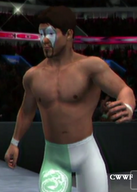 Felix Lin is an Asian-American caw of Chinease, Tawaniese, and Philippine descent. He competes in the CWWF though he is currently inactive due to injury.
Attributes
RTG: 78
Height: 5 ft. 9 in.
Weight: 167lbs (75.74 kg)
Birthplace: Shanghai, China
Resides: Sandoval, New Mexico
Billed from: China
Debut: 2012
Retired: Still Active
Character Facts
He is 26 years old
He is currently face
His nicknames are "The Ninja" and "The Fly"
In wrestling (CWWF)
Finishing move
Double diving knee drop (Knee attack from top rope to down opponent)
Astro scissors whip
Signatures
Flying knee attack (Knee attack from top rope)
Double knee drop (running jump onto opponents neck with both knees)
Diving headbutt