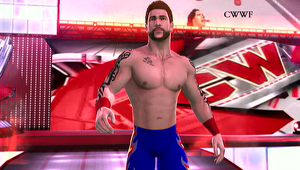 Edward "Gonzo" Flame
(Eddie Flame)
is an American caw wrestler who competes in the
CWWF
.
Personality
Cocky, smug, and dastardly. Eddie Flame is a heavyweight who won't hesitate to perform high-flying moves.
Attributes
RTG: 84
Height: 6 ft. 5 in.
Weight: 258lbs (117.480 kg)
Birthplace: Tulsa, Oklahoma
Resides: Tulsa, Oklahoma
Billed from: Tulsa, Oklahoma
Debut: 2011
Retired: Still Active
Character Facts
He is 30 years old
He is currently

heel

His nicknames are "The Motor", "Hot Stuff", and "Gonzo"
In wrestling (CWWF)
Finishing move
Hydroplane (Shooting Star press from top rope, with theatrics)
Flaming elbows (2 elbows followed by one big elbow to downed opponent)
Signatures
Butterfly DDT
Outer Limetz Elbow Drop