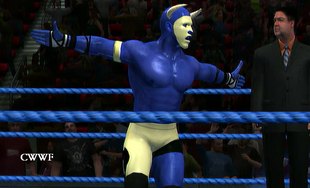 Azrael
Justin
Blue
is an American caw who competes in the CWWF.
He is the 7 minute older brother of Austin Blue.
Personality
Casually high-spirited and very charismatic are words best described to explain Azrael's personality. Alhough he generally doesn't speak much; he is very animated and descriptive with his actions.
Attributes
RTG: 83
Height: 6 ft. 0 in.
Weight: 238lbs (107.95 kg)
Birthplace: Tacoma, Washington
Resides: Tacoma, Washington
Billed from: Tacoma, Washington
Debut: 2011
Retired: Still Active
Character Facts
He is 28 years old
He is currently

face

His nickname is "Az"
In wrestling (CWWF)
Finishing move
The Blue Code
Diving Leg Drop
Signatures
Forward Russian Leg Sweep
Bionic Elbow