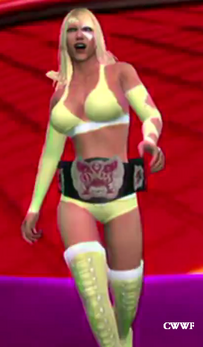 Amy Evans is an Canadian-American caw wrestler who competes in the CWWF; where she is the former CWWF Divas Champion. Currently she is inactive due to injury.
She is romantically involved with CWWF superstar, Peter Hero.
Attributes
RTG: 80
Height: 5 ft. 5 in.
Weight: 134lbs (60.78 kg)
Birthplace: Winnipeg, Canada
Resides: Providence, Rhode Island
Billed from: Rhode Island
Debut: 2011
Retired: Still Active
Character Facts
She is 21 years old
She is currently face
She was the inaugural CWWF Divas Champion
Her nicknames is "The Princess"
In wrestling (CWWF)
Finishing move
Caddle prod
Corkscrew neckbreaker
Signatures
Spear
Diving spear